Some would say that life is love, the binding force that unites us through a universal consciousness. Some would say God is love – the universe is love, and love makes the world go around. By opening with this I guess I agree, but there's much to how it both brings us together and pushes us apart in order to grow.
Soul Group
As far as I can best interpret it, we all come from a big blob of souls. Others refer to it as a soul group. These souls are in spirit form, imagine it like taking an ice cream scooper to a big lump of frogspawn – separating that lump of spawn from its original 'collective', and dumping it on planet Earth. The scooped out souls remain together until they each individually develop into carbon based life forms – like a tadpole – then break out of the collective to find their way individually through life. As humans it's a little different – but harder to describe. Our souls and egos are intrinsically linked, and we find new bodies – animals and humans to inhabit, and experience our experiences on Earth. Once we have a body, our souls are both separated physically, and connected at a soul level. We may or may not be aware of that, but we feel it.
Oversouls / Monads
Each online article you may read about this might attribute different numbers of souls in our soul group and oversouls, I've seen a variety of theories. One common theme is attributed to our oversoul, or monad. Some say these are different levels of souls, that the monad creates the oversoul and the oversoul creates individual souls. Some say it's the same thing. I say it's just a label and not to worry about it much, it doesn't really matter. Whatever it's called, like multiplying cells it apparently 'births' 12 souls from it. I've not personally been given this information from spirit (I prefer to stay away from maths and just get the general overview!) but it seems a common and plausible theory. These monads/oversouls can spawn another 12 souls, so you have 144 (12×12) souls in a close knit soul group. These people feel like brothers and sisters, and commonly find each other across lives, continents dimensions, space and time.
I personally believe everyone has a different number of close soul family members depending on how long they have been on Earth and reincarnated, so am staying away from numbers… apart from the infamous 'twin flame' partner which is meant to be one soul, split into feminine and masculine halves, destined to find each other in our last lives on Earth and become whole. I'll get to that…
We may not remember our 'soul spawn' family as people living a life in this incarnation in the 21st century, but our souls know and feel them intimately, and draw us back together repeatedly across multiple lifetimes. We bump into each other because, like a genetic family, we share similar viewpoints, backgrounds, and missions here on earth. We like the same stuff, want the same thing, and go about life similarly. Our soul family are similar to us in terms of energy, and we immediately feel comfortable with them and have an unspoken connection. We mirror each other's lives and perspectives, and bond quickly, easily and naturally. We become what we label 'soul mates'. As we learn our lessons from each soul mate, we find closer members of our soul spawn – people more and more like us, mirroring us a little closer each time… until we find 'the one'.
Soul Mates
Soul mates are by no means one person in our life. We very rarely meet one soul mate and live happily ever after, although we like to try. We like to think of them romantically as the one, but they are one of many souls in our soul family's soulspawn blob (or oversoul/monad), and are the person that's right for us, right now, at this moment in time – energetically matched with a similar number of positive and negative behavioural attributes, and karmic lessons to learn from and transmute. They can be our spouse, lover, teacher, mother, father, friend, workmate, pet, a celebrity, or person on the internet or walking past in the street. They all have something energetically that draws us to them, something in them energy wise that we lack our self, which is why soulmate relationships often feel like we complete each other. They have what we need, want, miss – they are the yin to our yang. They're just like us, with a few exceptions – which we perceive as good and bad.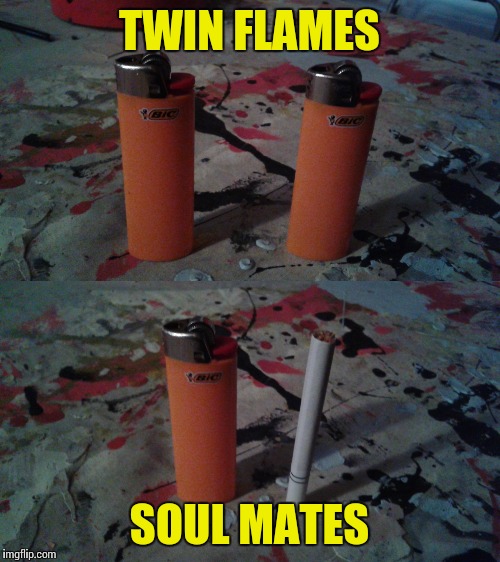 What's happening is that yes, for now, they complete us if we rely on them to provide all the attributes we lack in the relationship, and we're grateful and appreciative for that. We love them and need them, for that. A great and mature soul mate relationship will appreciate that completing each other isn't the goal – we meet to learn from each other, and to provide assistance in us developing the same attributes that they possess. We are here to level each other out, on the path to finding our inner balance.
The problems in soul mate relationships start when our viewpoints shift into 'they are wrong for doing something too much / not enough'. If we criticise, or feel defensive if the other criticises or manipulates us. When two soulmates stop feeling like we need each other, we often start to attempt to blame, change or fix the other, in line with how they perceive they should be – more like us. The ego takes over from the conscious energy, and causes hurt. This is when we start getting annoyed at each other and the once positive attraction turns toxic, creating a repelling energy instead. We cannot change anyone else – just ourselves, the balancing has to be the partner's choice. Few people genuinely change for good if they are feeling pressured to do so. It creates resentment, which builds up over time and forces people apart.
As we grow, we discover things about each other that don't feel complementary at all. We need multiple different energy and experiences, and that feeling of completeness gradually falls away over time. At this point, the soul contract is likely over and it's time to move on, be single again, and learn from our lessons. There will be more soul mates when we're feeling in a good place – more suitable ones – it's all part of the process.
If we've engaged in a conscious, learning, mutually respectful relationship this might happen quite naturally, positively, and without hurt and arguments, as we have both gained what we need from each other and will feel grateful for that. Relationships 'run out of steam'. We stay friends and continue to help each other through life, but not romantically or sexually – we no longer feel the need to exchange this amount of energy. However, this is a sadly rare occurrence and usually we move on in hurt, anger and blame. Alternatively, we stay together as long as possible and suck up those feelings, due to financial, legal, emotional or practical reasons. Modern day life makes it tough to be single if you want a family and a home, and many of us in a relationship don't like the idea of being single and alone, until we get used to it again and remember the benefits of being a lone wolf.
It may be compelling energy wise if our soulmate is attractive, but it's not always necessarily best to get it on romantically with our soul mate. We've been brought together to learn something from each other, see something good in each other, and develop that ability or energy within our selves. They are also there to show us something bad in ourselves – our shadow side behaviours, and in anger we often point out these features to our partners which otherwise they may not have been able to see in themselves. Soul mates are here to teach us lessons, both positive and negative, and the more energy we exchange, the more they trigger soul lessons we need to experience. Positive soul lessons are wonderful. Negative soul lessons are horrific.
Energy exchange is both physical and mental – thinking about someone exchanges energy with them – talking exchanges more, hugging and kissing more, again and having sex with them exchanges the most. The more we exchange energy, the more intense our lessons will be, which s why it really is important to go slowly. Each of our soul mates have a little or a lot of lessons and energy for us to experience and integrate within ourselves – the more lessons they have for us, the more attractive we find them. They are energetically, hugely, literally attractive like a magnet, and we don't usually know what those lessons are until we connect. This is the feeling of feeling drawn to someone for reasons we can't logically explain, having a desperate urge to be with them.
Some soul mate relationships, even though they are clearly toxic from day one, remain unavoidably compelling until the lesson is learnt. Sometimes the lesson is merely to get out of relationships that should have ended, but we are codependent on others – or indoctrinated into the religious viewpoint that marriage is the goal for each relationship, and forever – or we have failed and we are unworthy of a long term relationship. Sometimes it takes awful experiences to drum it home, until we finally learn boundaries and to prioritise our own needs. Pain is a great teacher.
We don't have to have a relationship – we can admire a soul mate from afar, and want to be more like them – this way we develop the attributes we need in ourselves with minimal conflict – but also, minimal enjoyment! It's a gamble each time, as to whether we think that partner would cause us more harm than good, and vice versa. Is it worth it? Should we go for it, make the most out of life and love? Or should we protect our energy? There's no right or wrong answer, just personal preferences and timing to consider.
Attraction doesn't necessarily mean romantic or sexual. We can be very attracted to someone we don't fancy at all – these people end up becoming our friends. When two soulmates' souls are attracted to each other for necessary soul growth reasons, but only one of them finds the other physically attractive, one of them gets 'friend zoned'. Alternatively we might find our soul mate gorgeous, but emotionally not our cup of tea as they display too many shadow side behaviours we're not ready to deal with, and we don't want to have a relationship with them.
My favourite soul mate is my dog. She mirrors me energetically, loves me unconditionally and doesn't give me horrible lessons (although I still have to deal with her shit!). Pets can become perfect partners – but again – can only offer minimal enjoyment compared to a sexy human!
There are many types of soul mates which we've given labels to. I'm going to list a few more, but personally I think the labels are problematic and should be avoided if possible – treat people energetically rather than assigning labels, as they mean we're more likely to have unrealistic expectations of them. I see everyone we're attracted to as a soul mate, part of a soul family, and some are here to give us different, and more intense experiences than others.
Soul Catalysts
Soul catalysts are usually short intense relationships, designed with the karmic purpose of being so influential that they knock us out of our comfort zone and onto a self healing path. We can have more than one in our lives, and often karmically we feel we have met them before. We have. It's our repeating roles in life, and the intense experiences and karma we create each life time make it extremely hard to overcome in a long term relationship in just the one life – there are just too many lessons to learn all at once. It's impossible to stay together in a relationship with a soul catalyst, they are there to make us want to be together, but so difficult we break apart and vow to do better next time, to 'fix' ourselves, or reach for spirituality as the answer. Maybe out of regret for how we have treated them, or as assistance we desperately need for how they have treated us, or both. They may be relatively short lived experiences, but we remember these connections for the rest of our lives as turning points, where we began to strive to improve ourselves – to treat ourselves, and others better, often guided by spirit.
They are really important people. If we're lucky we can remain friends and continue to advise and support each other along our spiritual paths – but it takes a lot of conscious effort and forgiveness to do so.
Partners in Crime
If you try online dating, you'll see many a person looking for their partner in crime, without having a clue what they are actually referring to. Our partners in crime have karmically been just that – people we have explored our shadow side behaviours with in past lives. Maybe we were criminals, drug takers, prostitutes, warlords, anything which is now deemed naughty or unacceptable in modern day society. Our souls yearn for those fun, naughty experiences once again so we can see our shadow sides within us, and learn to resolve how we feel about these activities. To transmute our shadow feelings into light – by repeating them and learning not to do it again in this life. We know our partner in crime will have our backs, having had them before. We look out for each other. Its a tight knit bond, although not necessarily the most wholesome one. We might not, for example, reenact being warlords if previously we have gone into battle together, but might both gang up emotionally on other people – feeling it's us against the world. We will replay in some minor, (hopefully) culturally acceptable aspect the behaviours we experienced with each other before.
We might have one, or many partners in crime, depending on what we got up to in our past lives. Whatever happens with these soul family members, you know you're going to have fun! Bear in mind however, they may not be the best person for us in the long term, unless we are conscious of this dynamic from the beginning and both choose to adopt a lighter path in this life time.
False Flames
Are they twin flames or false flames? We just don't know, but we live in hope until our energy and soul have been given such a beating we don't want to know either way. False flames draw us in and burn us to a crisp. They are the best, and then they are the worst experience.
It's not necessarily them, or their personality that's the problem – I hope not, I've encountered false flames, so therefore I must be one as well. The attraction between us however, is so intense that it's impossible to get them out of our heads and hearts until we have been literally dragged over the coals of love and despair.
A false flame is someone we think may be a twin flame – our perfect partner, the one. With so much in common and so little problems to perceive at first, they come across as pretty perfect. Our ideal partner, everything we've ever wanted. We fall head over heels with them fast and hard. There's no holding back, the attraction is immense, the sex amazing, maybe the best we've ever had. In perfect harmony, supportive, loving, fun, on a level of closeness never witnessed before. We finish each others sentences, feel each other's thoughts, everything looks and feels like the fabled twin flame experience – for a while.
Then one day, everything starts falling apart, just as fast and hard as how we fell for each other. We enter the push and pull stage. Running and chasing. One finds it overwhelming and bolts for the door – the other is left yearning desperately wondering what's wrong, unable to let go or move on, just trying to fix the situation. That's the problem – and the lesson.
False flames are a preparatory relationship for a twin flame – they break us of every bad habit and desire to be in a relationship, by being so impossible to get over that no-one else can do, but being impossible to get together – someone is always running away. It's just too intense. We end up thinking that we never want to experience this heartbreak again, and we learn to let go of our codependency, and our need for anyone else. We find ourselves, our self love, our self care, because we have to. Personally, I was so ruined I turned to poetry for the first time. They are pure pleasure, and then pure pain. If we get back together, it's the same thing over and over again. Can't live with them, can't live without them. They burn us out, and we do the same to them.
False flames destroy our 3D way of thinking and our traditional expectations of relationships. We rebuild ourselves from heartbreak a brand new person, never wanting to fall so hard or carelessly again. We grow up, develop boundaries, walls, and get on with our own lives – perhaps healthily, or unhealthily.
Then, we might meet another false flame, if we've not gotten over them or fully learnt our lessons. If we're unlucky, we may continue to meet these types of relationships, so close to perfection, but there's something wrong – we want it too much. We're pushing for a relationship, needing to have a partner, searching for our true twin flame. Until we are completely self sufficient and have no desire for a relationship, false flames are always a potential match waiting to be struck. Be careful of that fire!
Divine Feminine / Masculine Partner
Tempered and wiser from our past partnerships, the divine partnership is an entirely different kettle of fish. Here we have two people who have done a lot of self work on themselves, understanding their flaws and strengths, working through our shadow behaviours, and ready to have a conscious relationship without the problems of traditional 3D partnerships. If anything such as codependency crops up, it's addressed. If a partner oversteps any boundaries, it's addressed. A divine partner should be well in touch with both their own masculinity and femininity, whichever gender they fall under. Each has done the work to not need a anyone by realising we're our own twin flame, that we ourselves are the partner we've always been looking for, by embracing the energy of the opposite gender within ourselves. We're more balanced, happier on our own, and a partner is complementary, rather than completing. There's nothing to complete, as we're grand all by ourselves.
The feminine is strong, empowered, no longer fearing or controlling the masculine with any games or manipulation. The masculine is soft, gentle, no longer needing to use force or domination to control the feminine. We meet as equals. Control has gone, because there's no need to try and turn the partner into something to appease our own ego. Our ego is in check. Our anger issues, guilt, shame, fear – shadow sides to our personalities, resolved or minimised, or being consciously worked through with each other's support and understanding.
Of course, it's by no means perfect. We're still probably healing and undoing the years of 3D beliefs and relationship behaviours we were indoctrinated into beforehand. Often karmic issues may come up and rock the boat. We might begin to remember past lives – developed enough psychically and feeling safe enough to express and work through such sensitive issues with the other to support us. We will be stretched and tested, massively, to ensure we really are balanced and unconditionally loving. If so, the partnership can evolve and both can complete their healing journey together, hand in hand. If not, it becomes overwhelming and we need to break up. It might end up perfect, or might end up nearly perfect. Either way, it won't ruin us as much as a false flame experience, because we are no longer easily broken or fooled. A divine partnership can run for the rest of our lifetimes quite happily, because there is no need to stay together – no pressure – no problem to be alone again if necessary – and that removes the need for all of the reasons people traditionally break up. They appear in divine timing, just when we need them – ironically when we feel we no longer need a partner. It feels like a cosmic reward for all of the hard self healing work we've done.
Twin Flames
There is so much about twin flames on the internet I hardly feel the need to write much about them. The one. Our other half. Our Heaven on Earth. The masculine/feminine split soul of ourselves from our original incarnation. The person who will never say a bad word to you, will always support you lovingly unconditionally, psychically in tune with each other, communicating telepathically, with no secrets. You in another gender's body (traditionally – the body's gender doesn't matter any more, you're both masculine and feminine). The perfect relationship.
Alas, spirit tells me, in contradiction to most of the internet, that there is no such person. It's a lie. A lure. A trick to get us to work on ourselves so hard that we reach the stage where we no longer feel the need, or want a relationship. A cosmic joke to get us to the stage where we are happy to remain single forever, because the search for our twin flame and the relationships along the way break us out of this mindset.
And yet, it is a thing, because any soul mate can become the ideal relationship. Twin flame energy is a state of mind. A contractual link between two soul mates who grow together. They could be soul mates, false flames, divine partners – there is no the one for us. The dynamic doesn't fit into the soul spawn analogy. Our souls haven't been split into two, for us to find each other across space and time. It's a romantic story that keeps us trapped into a push/pull dynamic with soul family until we are ready for each other – the objective every time to learn to let go of relationships that aren't working. Every time – to find our twin flame, we have to let go of wanting them unless everything is already working out perfectly. Impossible, many will say – and I certainly relate to that, for quite some time. Upon actually letting go of the person I thought was my twin flame – the first soul mate I felt telepathically linked to, I was told afterwards my twin flame could be any soul mate.
There is a lot of money to be made by promising that we can do X and Y to attract our running twin flame. People run businesses off of the basis. It taps into people's need to find and be with these partners, which goes against the entire point of it – to let go. To stop needing a partner. To find love and balance within ourselves. Time and time again I have questioned this, absolutely certain and projecting the twin flame energy onto a soul mate who I was certain was my twin, because of the telepathy and intense push/pull energy between us, and the near perfect astrological setup which would make them theoretically ideal. And they could in fact become that perfect partnership – but many a time people will report their twin is a complete horror show, and they want nothing to do with them. Many a time people will begin running, and go backwards in their healing, falling back on old habits that mean they descend back into a hell mindset. This is when we need to let go. Then we meet someone else! If it's not working out, just, let, go. I know, easier said than done, but this is all a part of the healing journey, to break us of our need for anyone but ourselves. Whoever we perceive our twin to be, they are likely the most compelling reason to heal in our awakening process. If we both heal, then the twin flame story and union can happen. If not, one of them switches off, and the other lives in emotional agony – unless they can truly let go. Pain is a very compelling teacher…
Soul mates summary
The thing with soulmates in our family oversoul is that whatever label we give them, if we can love them unconditionally, in the now, with no expectations of each other, and both treat each other with kindness and support, working through our shadow behaviours together – whilst avoiding completing each other and codependency – they can become our healthy, mutually healing ideal life partner for the remainder of our lives. As we heal together we develop the psychic bonds between each other and slowly turn into each other. We balance each other out, take on each other's behaviours and preferences, through love. Love brings us together and binds us together.
It's more likely though that until we are very nearly, or completely healed from our dark night of the soul and past life karma, that we will be unable to treat our partner like this. Jealousy, anger, fear, addictions, depression, all these kinds of shadow behaviours that are in us all, block us from this twin flame state of mind. Once we work through these issues, our twin flame arrives on the scene, or someone we know suddenly seems perfect for us. They are perfect to us at this stage, because they are soul family, have loads in common, and have very few personality problems – the same as us, because we've both healed.
But if they are married, die, in a different country we can't move to, unavailable for any reason – we can let go and move on. Another perfect partner will pop up, if we believe that will be the case. We are never trapped into a reality where we are doomed to have a less than perfect relationship if we continue to let go of attachment, and heal ourselves. Just keep doing this, and it will all turn out brilliantly.
So i'm told, by spirit. Very firmly. Repeatedly. However – big caveat – I'm also told by spirit that I am given the information I need to know, right now. I'll never know this for certain until I am 'healed' – whatever that means, because it's all a process. I'm not there yet, I've more healing to do. If I was healed, I doubt I would be writing this. Our relationships hurts cause us to be creative, to express our angst, needs and learnings, to help heal ourselves through healing others. It's because of my 'twin flame' that I am writing this. One day, I truly believe, it will all come good, with whoever that is meant to be with.
Until then, I'll continue to attempt to live in the now, with no yearning, happy on my own, just focusing on myself and my own healing, and experiencing relationships with partners if and when it feels right to do so, whatever label they feel like. Live in the now, and take each moment and potential partner as they come. Accept myself and them as they are and hope they do the same with me.
After all of this lengthy write up – that's all there is to it, really! Live in the now, man – the hippies were right.
Good luck to us all, and remember, it's all happening in perfectly divine timing ❤